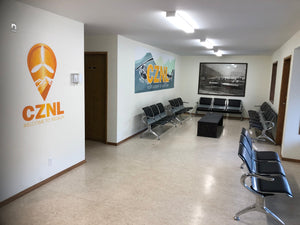 History
A mere 8 years after 
Wilbur and Orville Wright's historic 1903 flight at Kitty Hawk, North Carolina,
 the very first airplane arrived in the City of Nelson. In his book "Barnstormers to Bush Pilots", Peter Corley-Smith recounts from a Nelson Daily News article of Sept. 30, 1912, that 'the aeroplane has arrived in Nelson and the airman is on his way'. Walter Edwards, an American pilot, and his airplane arrived on that day to participate in Nelson's annual Fruit Fair. This historic event is commemorated with an original photograph in the airport terminal.
But Edwards was dismayed – he had not realized that the Fair Grounds from which he had to fly from was surrounded by power and telephone lines, as well as fences. "Had I known the lay of the land I never would have agreed to my manager signing the contract to fly here", he told a reporter. His skill, as it turned out was equal to his courage and he put on a 'brave and creditable performance'. From these humble beginnings aviation and the Nelson airport have become an economic asset and an important aspect of local people's lifestyle.


The airport was built shortly after the Second World War on property purchased from CP Rail and the Ministry of the Environment. The City received a federal grant to purchase the land. The Airport was named after Nelson's longest serving Mayor, Norman Stibbs, who made it his principle to be at the departure of every serviceman/woman who left Nelson to serve in WW2 and to welcome them home upon their eventual return.

Over the years, the City was successful in obtaining grants for airport improvements. Recent applications for grants for improvements have to a large extent been initiated by the Nelson Pilots Association (NPA) and more recently by the Nelson And District Airport Society (NADAS), with a recent successful $200k BC Air Access Programme grant in 2020.
Nelson Airport is operated by the City of Nelson with day to day management of ops and maintenance by NADAS.
We welcome you to Nelson and to hope you'll let us become part of your personal history!
---